Regional Chapters
North American Chapters:
Rocky Mountain Biochar Initiative (RMBI)
The Rocky Mountain Biochar Initiative (RMBI) is an informal working group (of about 100) that allows those interested in biochar or working with biochar or related fields to connect through a secure web based platform. To be linked into this group please send an e-mail to Biochar@colorado.edu.
SeaChar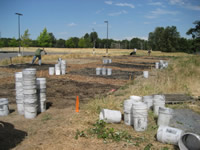 Mission: "The Seattle BioChar Working Group is a grass-roots nonprofit organization. Our mission is to promote the widespread use of biochar as a sustainable tool to fight climate change, build a healthier environment and reduce waste. As citizens of a global community we feel a responsibility to help create the positive future we want to live in. Through biochar research, educational outreach and the development of technology, we will gain and share the tools to accomplish this."
Values: "We will conduct our mission in such a way as:
To promote and protect the diversity and equality of life,
To nurture and value inter-connected living systems, by building community around openly shared knowledge, and
To re-establish balance, through acts of reciprocity."
Vision: "We believe that with the sustainable use of clean biomass energy and biochar, everyone can help to manage the carbon cycle and rebuild the health of our environment.
SeaChar has established projects in three program areas:
Research: The South Seattle Community College Carbon Garden, a USDA supported biochar test plot and teaching garden,
Educational Outreach: the www.SeaChar.org website. Biochar presentations, demonstrations and workshops for schools, community groups and policy makers. Partnership programs, demonstration projects and Service Learning Opportunities, and
Technology Development: Members of SeaChar are working on the development of appropriate scale, clean, biochar production technology. This ranges from TLUD "Stoves" to Solar fired, steam pyrolysis, biochar production technology. We will soon begin construction of an Adam-retort on the SSCC plot.
To learn more please visit www.seachar.org or contact Art Donnelly at art.donnelly@seachar.org
Sonoma Biochar Initiative (SBI)
The Sonoma Biochar Initiative's mission is:
Promote biochar production and application as the "fast mitigation technology" cited in international climate talks.
Engage stakeholders in the advantages of biochar as a tool for climate policy and agricultural benefit.
Promote policy at all levels of government to foster early adoption of biochar production and application through appropriate carbon valuation and funding laws as well as technology and offset protocols.
Acquire funding, define and address regulatory hurdles to develop a Sonoma Valley Biochar Demonstration Project to show viability for biochar production; carbon sequestration; agricultural soil amendment; energy cogeneration; other related processes to "close the loop".
To learn more visit them at http://sonomabiocharinitiative.org/
Pioneer Valley Biochar Initiative
The Pioneer ValleyBiochar Initiative is a group of farmers, professors, students, and concerned citizens, promoting public awareness that a growing body of soil science affirms biochar's value as a soil amendment that can increase soil productivity and enhance crop health when incorporated into farm, forest and garden soils.
They are motivated by biochar's ability to sink atmospheric carbon and biochar's incredible potential for restoring soil health as a natural catalyst aiding living soil systems.
To learn more visit them at http://pvbiochar.org
Biochar Northeast
Biochar Northeast is an emerging group that warmly welcomes inventors, farmers, gardeners, scientists, engineers, renewable enrgy enthusiasts, town planners, educators, and more.
Biochar Northeast seeks to collaborate with and support individuals and groups by providing a forum for the exchange of ideas for pyrolysis systems, biochar for agriculture, horticulture and landscape and energy/heat co-generation. They plan to accomplish this work via workshops, demonstrations, websites, meetings, access to regional resources, and outreach.
To learn more visit them at www.newenglandbiochar.org or www.biochar-international.org/regional.northeast
Flux Farm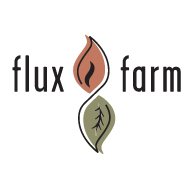 Flux Farm Foundation contributes to the economic viability of agriculture by providing landowners, policy makers, and industry with research driven information on how to profitably integrate renewable energy and carbon sequestration technologies onto farms and ranches in the Intermountain West.
To learn more visit them at www.fluxfarm.com

Biochar Reclamation Labs, a project of Flux Farms, works to develop, test, and deploy, scaled technologies to restore drastically disturbed soils in the agriculture and mining sectors. They work to re-balance the active and recalcitrant soil carbon pools of landscapes with poor soil structure, limited water retention, unbalanced pH, metal toxicity, trace pollutants, and stagnant biological activity.
To learn more visit them at www.biocharreclamation.com

The Biochar Application Network, a project of Flux Farms, was formed to foster the development of biochar application methods that are technically, economically, and environmentally viable at scale. Through applied research, industry partnerships, and targeted outreach, biochar specific application methods will be developed, verified, and brought to market.
To learn more visit them at www.biocharapplication.com
Alaska Biochar
Alaska Biochar is a small group focused on biochar trials. They just began their first trial this summer.
To learn more visit them at www.biochar-international.org/regional/alaska
Biochar Hawaii
Biochar Hawaii is a small group focused on biochar trials.
To learn more visit them at www.biochar-international.org/groups/hawaii
Illinois Biochar Group
The Illinois Biochar Group encourages research in the production and use of biochar and works to inform and educate others about biochar.
To learn more visit them at www.biochar-international.org/regional/illinois
Pacific Northwest Biochar Initiative
The Pacific Northwest Biochar Initiative is a group comprised of academics, researchers, engineers, foresters, farmers, policy experts, and business leaders formed to thoroughly examine biochar and its possibilities for the Pacific Northwest.
To learn more visit them at www.biochar international.org/regional.pnw
Terra Preta at Michigan Technological University Working Group
A group of students working with and researching biochar. To learn more visit them at www.biochar-international.org/regional/michigan
Canadian Biochar Initiative (CBI)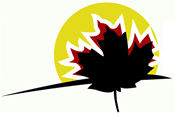 The Canadian Biochar Initiative promotes biochar as a sustainable vehicle to sequester carbon, improve soil fertility, and enhance food security by advancing research, development, deployment, investment and commercialization of biochar in Canada.
They are helping Canada become a world leader in all aspects of biochar including research, production processes, product and quality standards, end-product applications and market acceptance.
Their strategy is to:
Facilitate research into all aspects of biochar,
Focus on areas that sequester carbon, minimize climate change, improve soil fertility and enhance food security,
Ensure biochar applications are sustainable and have a carbon negative full life-cycle,
Expand the knowledge-base on all aspects of biochar,
Disseminate knowledge about biochar to stakeholders via the web, newsletters, conferences, networking and realted activities, and
Encourage regional biochar associations across Canada to assist in these efforts.
Since its inauguration, the Canadian Biochar Initiative has provided information and networking opportunities to government, business and non-profit associations as well as individuals who have an interest in biochar.
Areas of focus:
Working with domestic and international government and research authorities to establish a unified format and to specify standards and protocols for biochar field trials,
Establishing toxicity and toxicological baselines for biochar and its use,
Establishing certifiable standards for biochar with respect to analytical methods and audit processes consistent with CFIA, USEPA/USDA and Health Canada requirements for 'food and food contact products',
Assisting to develop a 'Biochar Standard' with respect to carbon dioxide sequestration, carbon credits, verification and auditing procedures,
Developing an online database that will provide a repository of information to researchers and those interested in undertaking biochar trials,
Creating and providing a sample business case for farmers, co-operatives, municipalities, individuals, businesses and any others interested in utilizing biochar for soil enhancement and Carbon dioxide sequestration, and
Coordinating meetings across Canada on various topics related to biochar.
CBI Activities:
Visibility and Leadership in the field of biochar in Canada,
Support for research and critical analysis,
Taking the lead on characterization and standards development in Canada,
Providing Technical and Agricultural information for practitioners,
Communications: website, newsletter, updates, etc.,
Holding conferences,
Providing information on grant funding,
Providing policy information, and
Providing support for projects.
You can learn more at www.biochar.ca
Biochar Ontario

Biochar Ontario aspires to be the lead promoter and facilitator for all aspects of research, application and dissemination of information relating to biochar.
Mission: The mission of Biochar Ontario is to promote biochar as a vehicle to reduce greenhouse gas emissions, improve soil fertility, and enhance food security by advocating research, development and commercialization of biochar.
Biochar Ontario is a not-for-profit organization comprised of business, environmental and research professionals who aim to promote biochar as a vehicle for reducing greenhouse gas emissions (GHGs), improving soil fertility and enhancing food security. They advocate for the research, development and commercialization of biochar in Ontario.
As an affiliate of the Canadian Biochar Initiative (CBI) they are connected to an international network of scientific researchers and climate change experts who link them with the latest research data regarding biochar's performance in soils and as a viable method of carbon sequestration.
Biochar Ontario aspires to be the lead promoter and facilitator of biochar in Ontario. They compile information about biochar, including international research, safety standards, production guides and carbon credits, and make this information readily available to the public, farmers, government officials and Canadian researchers. They strive to educate Ontarians through presentations, articles, papers, exhibits, workshops, events and any other forms of communication open to them.
Biochar Ontario is a professional organization with a collaborative, forward-thinking approach. They welcome partnerships with regulatory bodies, corporations, universities, farmer cooperatives and public institutions.
"Through collaboration and solutions based leadership, we are working towards innovating Ontario."
You can learn more at http://groups.google.com/group/biochar-ontario or http://www.meetup.com/biocharontario